7 Best LAN Games to Play on Your Laptop/PC
It is always a treat to play LAN multiplayer games with your friends on your PC or laptop. There are various popular games which are played worldwide, especially on LAN. These games facilitate better multiplayer options and allow many players to play together seamlessly. If you haven't played LAN games for PC in the past, you are missing out on a lot. The fun quotient of these games is at a different level altogether because you can play them with your friends too.
Best LAN Games for PC/Laptop
A LAN game is a pure delight to be played with friends. If you are looking for some fun while sitting at home then switch on your computer and play these games. Let's check out the best LAN games you can play on your Laptop/PC. Try them out if you haven't yet and enjoy playing it with your friends.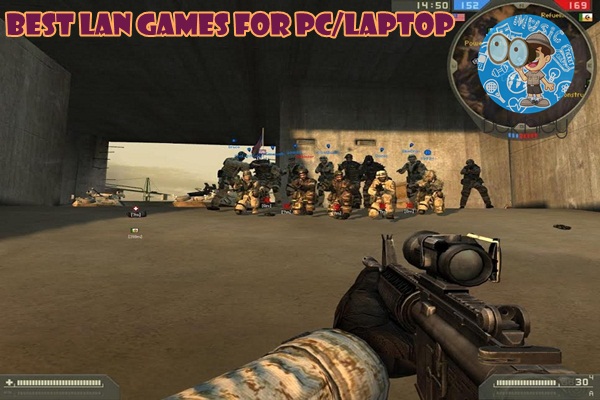 BLUR
If you are a car racing enthusiast gamer, you will just love the gameplay of BLUR. Although the single player of the game is pretty decent, the multiplayer edition is at another level altogether. It is widely regarded as one of the best LAN PC games and is rightly considered so. The graphics, as well as the gameplay, is superb and many people enjoy playing it at leisure on LAN with their friends. It also ranks high on the list for best LAN games for laptops as this is a racing game and needs no mouse to be able to play it.
Counter Strike: Global Offensive
Counter Strike is definitely among the best first person shooter games ever made. Global Offensive is a revamped and upgraded version of Counter Strike 1.6 and can be said to be one of the best LAN games in the world at present. Unlike 1.6, Global Offensive comes with a sleek game interface as well as graphics. There are many more options and features that you will find in the game which lacked in previous versions.
Call of Duty: Infinite Warfare
Call of Duty is the most popular first person shooter franchise in the world. It completely changed the multiplayer shooter game scenario when it was first launched. With the recent launch becoming so popular, Infinite Warfare has emerged as one of the best multiplayer LAN games of the year. Riveting graphics, extraordinary gameplay and a theme that is loved since years, if you like fps games, COD is a must try.
Age of Empires II
For all those who love to play strategy games, this is certainly your best bet. Get on with your friends and use your mind and strategies to get the most out of this game. One of the best things Age of Empires is that you can also run it if you have low-end specifications on your PC or laptop. It is widely played throughout the world and has been popular because of its simple gameplay and classic multiplayer options.
Minecraft
Minecraft is a popular indie sandbox game which allows you to build structures in a voxel based world. It is highly interesting and people who love playing the game spend hours on it. Although the graphics might look a bit old fashioned, don't consider it as a boring game. Give it a try if you haven't yet played it. You can also play the game in a survival mode or a free build mode when you are not playing on LAN with your friends.
World of Warcraft: Legion
If there is a game that competes with Counter Strike to be among the best LAN games, it has to be World of Warcraft: Legion. The game is massively popular and you will find many groups playing in LAN servers either in cybers or in their own arena. The game is also quite popular in the online space, a huge percentage of the online servers are occupied with World of Warcraft players and it totally deserves the attention it gets.
Need for Speed: Most Wanted (2012)
NFS is probably the best racing game franchise ever. The brand keeps on growing every year with new additions to its franchise. The Most Wanted 2012 edition is a phenomenal multiplayer game that you can play with your friends on LAN. Choose from the most exotic cars in the world and race along with your friends on tracks that you will love to race in.