Top 9 Most Effective Free SEO Tools for Pro Bloggers: Supercharge your Search Rankings
SEO stands for Search Engine optimization, which includes strategies and techniques to attract more visitors to one's profile. SEO is one of the major necessities for a blogger as besides a nice-looking website, they need a large audience so that their work becomes successful. You can do your best by posting regularly updated and interesting content, but without SEO, it will all be a waste.
Best Free SEO Tools for Pro Blogger to Improve Site's SEO
There are many tools available in the market to assist your SEO needs and to help you deal with the complexity of the SEO Rules. The most interesting fact is that most of these tools are available for free and these are helpful in making your site rank higher. In the following article, we have shortlisted the best 9 SEO Tools which are completely free and which should be used by every Pro Blogger. Have a look –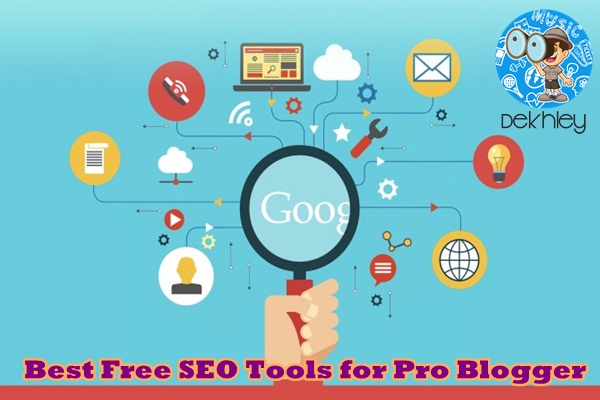 Majestic SEO
Majestic SEO is one of the best free SEO Tools. It has very advanced SEO services compared to some other tools. This tool focuses specifically on link intelligence along with domain-based metrics. Some other great features which include the like of Site Explorer, Backlink History tool, Keyword Checker, Comparator, and a Clique Hunter are also offered by this tool. Most other tools offering the same features are very expensive but Majestic SEO provides a free account for a personal blog(s).
Virante SEO Tools
Virante is one of the best SEO tools for a newbie, offering great on-site and off-site SEO tools. The best part being all this is provided for free on their website. The tools offered by them are Duplicate Content Tool, LDA Content Optimizer, along with a Density of Keyword Tool. Besides this, some off-site tools are also provided. These are Competitive Analysis Tool, One-Link Atrophy Tool and a PageRank Recovery Tool which are very useful for a blogger.
The Moz SEO Toolbar
This Moz SEO tool is a free tool which is available for Mozilla Firefox as well as Google Chrome. It provides the users with access to some useful and typical SEO metrics, and that too in real-time while you are browsing the Internet. Besides this, it also highlights the links and keywords which are there on the website. With this tool, you can also see all the page elements on the website. A detailed search engine results page, widely known as SERP overlay is also provided, allowing the users to compare metrics from Google, Bing and Yahoo.
Ubersuggest
This is a great and useful tool for keyword suggestion. It helps the users by suggesting easy as well as effective keyword phrases. These phrases are based upon Google's own suggestion engine. All that you need to do is to simply put your query or keyword in the search bar and Ubersuggest will do its job thereafter. It will provide you with a list of suggested keyword phrases based on searched word. You can also base suggestions on various other Google services including the likes of Google Images, Video, and News.
Browseo
Browseo is a small, easy and quick web app assisting the users with its SEO tool like service. This app cum tool allows the users to look at websites just like a search engine. So by doing this, you can view your blog from a pure SEO perspective. You can do it without having to dig into any code. The app is available on both Android and iOS platforms, allowing the users to check their blog's SEO optimization on their mobiles as well.
Google Adwords
Google SEO tool named Adwords is one of the best Free SEO tools every pro blogger should use. Its' keyword feature is widely appreciated. This tool allows the users to find which keywords are blowing hot on the web. You can also check the rank of your own keywords on this tool. You can find the competition, global monthly searches, and local monthly searches. This gives a great analysis of the chances of success of any keyword.
SEOmoz
If a blogger does not want to allow much access to Google on their website, then SEOmoz is the tool that they need. SEOmoz is a free SEO tool for bloggers which allows them to check their rankings every day for up to 5 different keywords. This means that bloggers can check up to 150 words a month for free. You also get a running archive with it, which allows the bloggers to keep a better track on their website and monitor its growth and success.
MultiRank Checker
This is one of the most popular free SEO tools for pro blogger which is created by iwebtool.com. It is a rank checking tool. It works in a snappy and quick way, easy and faster than most other tools. You can check your Google or Bing page rank by just putting your domain name in the checker. You can check the domains in bulk and save a lot of time in case you have multiple websites on the web. You will get a results table in the end which can be copied and pasted and kept for future reference.
Fiddler
Fiddler is one of the best free SEO tools which can save you lot of money. You will never have to pay a web developer for his services for solving your website problems. You can solve all your problems using Fiddler. Fiddler allows you to debug your site by capturing all the HTTP traffic which is coming forward through your website. Thereafter, it will log the traffic to be reviewed by you. You can also fiddle with the HTTP traffic while it is being sent back to you.