Daughters are really special to their dads and are an apple of their eyes. Dads work tirelessly to give the best of all worlds to their dearest princess and are always appreciative & supportive of their daughter's dreams. Christmas is around the corner and it is the best time for all the daughters to make some amazing craftwork and express their heartfelt love for their beloved hero. A lot of gifts are already available in the stores but it is a special gesture to make something hand-made and gift your dad. Personalized gifts are also a great idea to surprise dads with something different and out of the box.
Handmade Christmas Day Gifts for Father
Painting, crafts work, and paperwork usually turn out beautiful when girls meticulously on the craft. Handmade Christmas Day gifts adorned with different colors and decorative stuffs are sure to add splendor and cheer up all dads. Here are some amazing ideas on gifts for dad on Christmas Day that are sure to win away hearts and please every dad across the world. So get started with paper and pen to work on some splendid Christmas presents. Here are a few Christmas Day gift ideas that can send a perfect love-filled message to all dads from their little princesses. These gifts are irrefutable the most prized possession for all lucky dads to be blessed with divine daughters.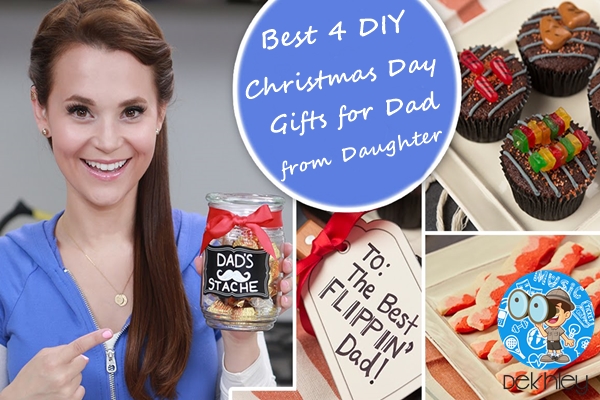 I Love You Card
The three most loving words when put in some amazing card and crafts work make a huge difference and leave all dads mesmerized.
Take an A4 size hard paper or a ready-made blank card from the stationery and a scissor, glue and some colored pens & pencils.
Draw your favorite stuffs on the card and stick some cute pictures of your choice.
You can line out the words "I LOVE YOU" with a marker and stick it on another hand-shaped cut out card.
Stick this on the main card and color the rest with your favorite combination.
The lovely card is all decked up to be presented and definitely calls for a
Crown
This is one of the cutest homemade Christmas Day gifts where every daughter who is always a princess to their darling dad can make him feel the king of the world. All you need is a hard paper.
Cut it out in the shape of a crown.
Color it golden.
You can also stick some small shining stones or pebbles to make it appear like jewels embedded.
Write a lovely note and your prized crown for the king dad is all ready.
Car Wash Kit
Car Wash Kit is a useful and easy project for all kids that can be easily made at home.
Take an old plastic container and wrap it well with a colorful paper.
Add some shining stars and pictures on it and color the edges.
You can also write 'KIT' in bold by a marker and decorate the holder well.
It is simple and can be used for multiple items.
Dad can keep their car wash stuffs and shaving stuffs in it. No wonder it is quite a useful Christmas day gifts for dad from daughter.
Photo Frames
Photo frames are quite common father daughter gifts that add to awesome memories to their priceless relationship.
Take a hard cover card and cut it out in the shape of the letters 'DAD'.
Cut it out in a large shape and paint it well.
You can stick the pictures of your Dad and some amazing family pictures in the gaps for the 3 letters.
It is simple yet priceless and can be used by all Dads to keep on the desk at home and at work.