Spring Roll is one of the most popular snacks, especially in the Northern parts of India. The youngsters and elders all like this snack a lot. It's available at almost every restaurant these days such has been its popularity. Its origin is from China but it has been very well adopted here in India. These are perfect as tea snacks or for a weekend brunch. The best thing about these awesome snacks is that you can easily make them at home as well and enjoy their delicious taste whenever you want. So here we have explained the spring roll recipe for you to make spring rolls at home. Just go through this simple procedure and make delicious spring rolls for your evening snacks.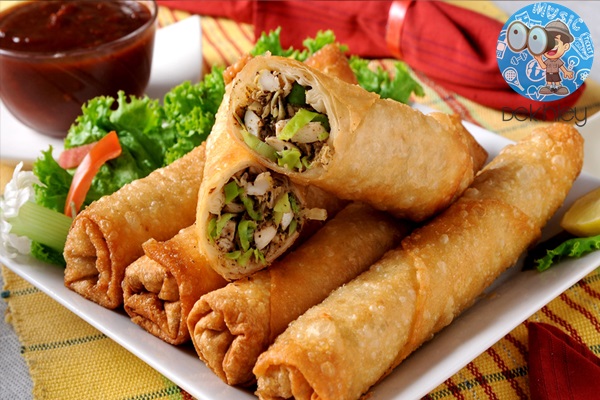 Ingredients Required
10-12 Spring roll wrappers (available in market)
2 Spring onions (thinly sliced)
1 normal medium Onion
2 medium carrots (cut into thin strips)
1 Green capsicum (cut into thin strips)
½ Finely shredded cabbage
Oil 2 tablespoon
Salt as per taste
1 tablespoon Cornflour or cornstarch
1 Cup oil for deep frying
It will take around 10-15 minutes for preparation of spring rolls and around 20 minutes to cook them. Let us now explore the spring roll recipe in our guide and prepare one of the most delicious Chinese snacks that can even be served with main course food.
Recipe to Cook Spring Roll – 12 Easy Steps
Pour oil in a hot pan. Saute spring onions, normal onions, carrots, cabbage together in the pan for a couple of minutes thereafter.
Keep stirring and fry the vegetables on a high flame until they become crunchy and brownish.
Add little salt over it according to your taste and mix it well. Allow it to cool down.
Now take out the wrappers. If they are frozen, then put a damp cloth on them for some minutes, approximately 5-7 minutes.
Now spread one wrapper wide. Pick some of the mixtures which you had kept for cooling and put it on the wrapper.
Roll one of the edges of the wrapper of the spring roll towards the inner side which is covering the stuffing.
After you are done with that, bring both the sides to the center. Then you can dampen the leftover edge and hence roll the wrapper in order to seal it.
Keep them covered for some time. In the meantime, you should heat oil until it is hot enough to cook dishes.
You can check if the oil is hot enough or not by dropping a small piece of the wrapper in the oil. If the oil is hot enough for cooking, then you will see that the wrapper will rise in the oil.
Once the oil is ready, you can add the rolls in hot oil and fry them on simmer flame.
You should be careful to fry them evenly by stirring them continuously until they are golden and crispy.
Now you can take them out and drain the excessive oil on the kitchen tissue.
The Last Words
Your tasty and crispy Spring Rolls are ready. You can serve them hot with ketchup and other sauces. Enjoy your favorite snack at home by following this easy recipe to cook spring roll.