Tapzo: India's First All-in-One Mobile App
The world is turning digital day by day which helps in making everything possible with just a few taps on our smartphones. Paying bills, ordering food, cricket, entertainment, and a plethora of day to day useful things have now been made available in an all one app – Tapzo. It is one of the best multipurpose mobile apps that accommodates the functionality of more than 35 other apps and adds a digital touch to your daily lives. Tapzo is India's first digital app that basically combines several different apps from various categories like horoscopes, mobile recharges, latest news, food, and a lot more.
Introduction: All You Need to Know about Tapzo App
The Tapzo app is designed in a way to integrate different useful apps to make the use of digital service simple and easy to the core for all users. This article is a brief extract on the Tapzo app features and advantages. Our smartphones often slow down owing to the installation of multiple apps. This includes booking of cabs, mobile recharges, utility bills, food orders, and many more.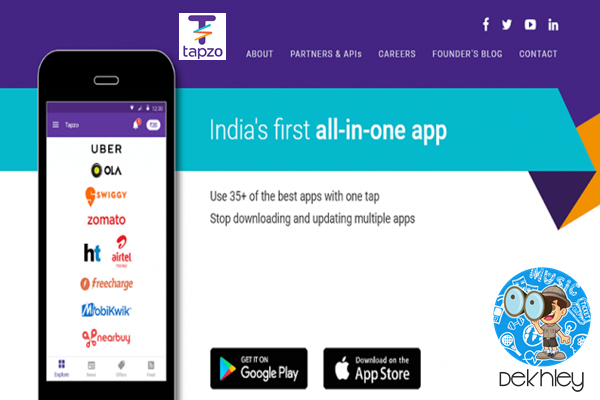 The Tapzo app for android is a multi-purpose app that serves all the above mentioned needs and provides many other interesting and useful features. Here are the key points of the Tapzo app highlighting Tapzo app wiki, its uses and functionalities.
Services Provided by Tapzo App
The Tapzo app founder 'Ankur Singla' explains the prime objective of this multi-purpose Tapzo app is to ease the use of digital services by aggregating several important apps of entertainment, mobile recharges, bill payments, cab booking, horoscope, news, etc.
You can simply download Tapzo app to get started with all these functions with just a single app. This app provides more than 35 services integrated in a single platform and hence you need not install multiple other apps.
The app is an exclusive chat with brand equity which includes the frequently used apps like Zomato, Uber, Nearbuy, Ola, and many more from different categories.
Highlighting Tapzo App Features
Download and installation of apps are done in humongous numbers everyday which goes hand in hand while uninstallation too to free memory space in phones.
One of the striking features of Tapzo is the cluttering of various other important day to day apps. Hence instead of having installed multiple apps on your smartphone, you can install Tapzo app and use multiple services at one go.
Also, it is interesting to note that the Tapzo app is also launched in 'Hindi Version'.
The Tapzo mobile app saves huge amount of data, memory, space, and battery life which is of great significance in the range of 10 to 12k for all Android users.
It will keep your phone memory free and smoothen the functionality and speed of your phone.
How to Use Tapzo: Download and Installation
The Tapzo app is basically a solution to the increasing number of uninstallation of useful apps to free memory and avoid consumption of data. Tapzo app for iOS and Android can be easily downloaded from the Google Playstore or the Apple store.
The process of download of Tapzo app for Windows, Android, and iOS is simple where you just have to provide your email id and contact details to sign up.
After the download, go for installation and get it installed in your phone.
After installation, a step by step guide on how to use Tapzo app will be provided on your mobile screen.
Tapzo App Offers & Deals
There are various Tapzo offers and promo codes currently available with Tapzo. The concept of Tapzo is one of its kinds integrating multiple other useful apps. It also offers various coupons, discounts, deals, and cash back on installation of the app. You can also refer and earn points which can also be redeemed by the users.
Tapzo Customer Support
If you are facing any issues with the installation of Tapzo app or app's functionality, you can use customer care number and contact them. You can also send your email address and order id with your issue to their customer support email id and they will surely give you instant reply. The app is designed in a very customer friendly platform and focused on simplifying the use of most frequently digital services.