Making money is not an easy job. In today's world where competition is fierce any talented individual finds it hard to find a platform. To showcase your talent and to earn from that is like a dream. Here is where freelancing comes in. Freelancing is where any individual is given a task to complete by any other person or company and is paid for that. It is not a normal job as the person is appointed only for a particular job. It is very important that freelancers work for a trusted site as there are many frauds site that make you work and then do not pay you. So here are top 10 online money making sites for various freelancers.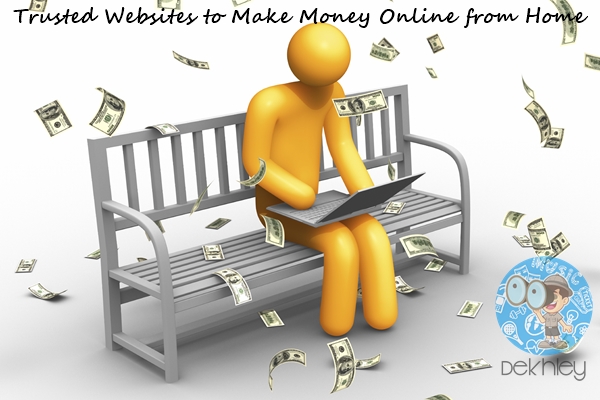 This is the site for freelancing software engineers and website designers. This is an American company that connects freelancing software developers and designers with various companies in need. You can simply join the site and start making money online from your projects. This site is trustworthy and gives best opportunity to many people as the company has very vast connections.
This site comes under the list of top 10 trusted websites to make money online from home. As the name is depicting it has something to do with lists. This online site pays you to write content. You have to submit a list of Top 10 on any category but it has to be unique and informative. There are various categories like entertainment, health, lifestyle and much more. You will be paid through PayPal account. You can earn up to 100$ per list.
This site has millions of viewers because of its humorous content and you can easily start your freelancing career with this site. This site posts funny articles, videos and photographs. So if you think you have a humorous side that you can express in words then they will happily pay you. Your content needs to be unique and you can also submit videos. You will only get paid if editors of the site agree to it. They also organize weekly quizzes and competitions that you can participate in and earn money.
This is a very informative site and attracts various readers. This site posts articles on various topics. The content of those articles are written by experts in their domain. These experts are known as guides. These guides are paid to write content on topics they are best at and getting paid through writing content is one of the best ways to earn money without investments. To become a guide you must pass through selection criteria. Your content should be original and you should be excellent in your niche.
Are you thinking about online earning sources? So do you think you can click a picture that is not only unique but also so amazing that it is worth sharing with the world? Do you think you have an inbuilt photographer that clicks a picture as soon as it finds it worthwhile? Then this is the site for you. You get paid to give them a picture that is unique and original. It should not be downloaded from the internet. You can be paid up to 28$ per picture.
Do you think you are multi talented? and you can provide services that no one else can then this is the site for you. Fiverr welcomes every kind of freelancer as you can post any kind of services. It is the best money making site for the freelancers. Your work will be called as gig and clients will hire you according to your gig. For every gig you earn 5$ out if which you shall receive 4$ in your PayPal account and 1$ will be taken by Fiverr as commission.
Clixsense.com

This is the site for those who are ready to work hard but need an easy job. Clixsense is a Paid to click site. To earn money you have to take surveys or view ads fir minimum of 30 seconds. You can also earn money by referring people to this site. This although is an easy job but constant working us required if you want to earn a desirable amount. The site pays .02$ for a survey or to view ads and if you refer someone and that person earns 1$ you get .50$ in your account.

This site is very popular as it publishes unique and unusual facts. It is a newly launched site and was launched by the makers of Listverse.com. This site too has the job for freelancers. You get paid for writing unique content. If your content is unique and original and it is chosen for publishing you get 10$.

One more trusted way to make money online is Google AdSense. Now say you have a website. You do not need to be a freelancer. If your website has good number of viewers and the traffic is constant then you can earn extra by Google AdSense. This feature pays you for posting ads on your website. You just have to add AdSense to your coding and start earning.

This is a site for various freelancers as this site has multiple job categories. Over here clients post their need or job requirements. Then the freelancers have to bid on the project. The client chooses a suitable freelancer and they make the deal. Job postings are of various kinds like content writer or data entry or software programming and much more.

This is an Indian company. This site offers internships for various graduates and undergraduates. The company or person posts an internship according to their requirement and then freelancers have to submit an application. To submit application you have to register yourself with Intersnshala.
Final Words
It is very important to find an original site that actually pays you for your hard work and dies not misuse your work. Many fraud sites are there online that offer you a lot of money but do not pay you once the work is done. So it is best to be wise. Above list is the real money making sites for you. Prove yourselves and earn from that. Enhance your talent and show the world what you gave got.