How to make Vegetable Momos at Home: Step by Step Recipe
Momos are a popular tantalizing delicacy from Nepal and Tibet origin. This finger-licking dish is also called as wontons and dim sum in different parts of the world. It is also a common traditional food in the North-eastern states of India. The specialty of momos lie in the art of stuffing that makes it tasty and delicious. Momos have become popular in recent times and it quite a favorite evening snack. The recipe to make vegetable and non-vegetable momos is simple but it requires meticulous efforts and time depending on the kitchen appliances used.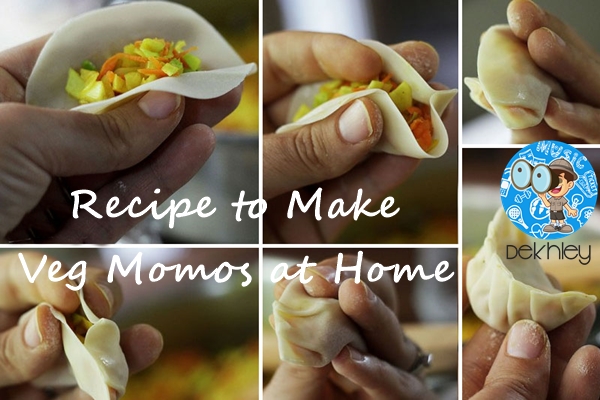 The Shape and Garnishing of Momos
Momos are a filling evening snack and is irresistible for many with it spicy stuffing dipped in Schezwan sauce. The ingredients required to make vegetable momos at home are easily available in the market and hence can be cooked with much hassles. However, shaping of momos is a slight difficult job and can be achieved with practice. The shape and garnishing of momos with Schezwan sauce makes it a perfect dish for all.
Simple Steps to make Vegetable Momos at Home
Momos can be either steamed or without steam cooked in either microwave or pressure cooker. This Chinese dish can be made with whole wheat flour and be absolutely fat free. The momos recipe step by step is highlighted below:
Ingredients Required
The outer cover of momos is generally prepared from flour or maida. For a serving of 14 -16 momos, you would require the below ingredients in mentioned proportions:
1 cup of maida or flour
½ tsp. oil and ¼ tsp. of salt for taste
2-3 tbsp. of water for kneading
The vegetable stuffing filled inside the momos is the most important part of veg momo recipe.
Take about 1.5 -1.75 cups of very finely chopped veggies that can included ½ cup chopped cabbage, chopped carrots, French beans and capsicum.
Take 3-4 garlic finely chopped and add 1 tsp. soya sauce as required.
Also take 2 small sized spring onions and finely chop them.
You also add ½ tsp. of black pepper and 1tbsp. oil.
Steps of preparing the Momos
After you have all the required ingredients ready for a delicious momo, you can now start with the steps to prepare the stuffing and shaping the momos. Here are simple tips to make momos that will help you add delight to the tempting momos.
Preparing the Outer Cover for Momos
Take the mentioned quantity of maida and mix oil and salt to it in a bowl.
Also add water and knead the mixture to make it a firm dough.
Cover this dough and keep it away for around 30 minutes.
Preparing the Stuffing
Take the finely chopped vegetables in a thick bottomed pan and heat it with oil.
Also add garlic and sauté to it.
Now add the chopped onions and sauté into it.
You can slowly increase the flame and stir the veggies.
Continue to stir for about 2-3 minutes and then switch off the flame.
Add 1-2 tbsp. of the spring onions and mix them well with pepper, salt and soya sauce.
This Chinese style of momos preparation can be used by all as it follows the conventional and general way of making momos.
Shaping the Momos
Shaping of momos is certainly the toughest parts of momo making recipe. To shape the momos, first divide the prepared dough in 2 parts. Make a log of about 6-7 inches and cut it into equal slices. Make a ball from each slice and cover them with moist napkin.
Take each of the balls on a dusted board and roll them in a thin circle. Keep the center thick and the edges thin.
Place 1-2 tsp of stuffing the center of the balls and lift 1 side of the edge to start pleating.
Now start folding them and join the pleats in the center. Prepare all the momos in this way and cover them with the moist napkin till they are ready to be steamed.
Steam Veg Momos
Heat water in a steamer or an electric cooker or pressure cooker until the water starts boiling.
Place the momos in the greaser steamer pan without letting them stick to each other.
Steam the momos for around 5-6 minutes.
Once the momos get a transparent look you can garnish them with spring onion greens.
Now serve the hot momos with schezwan sauce and enjoy momos made from the simple momo cooking recipe you just learnt. These were the simple tips to make awesome momos from this momo food recipe. It makes an amazing serving with spicy sauce which can also be easily made at home. All you need to take care that the momos don't get steamed in excess as that can make it hard. Enjoy your hand-made momos and treat yourself delightfully.