Your house doesn't become your home unless you are able to feel comfortable in it and make ease with the surroundings. One of the first things people do to get a comfortable feeling is decorate their house with wall art designs. With a little help, time, and effort towards decorating the walls of your home, you can bring about a complete change in the appearance of your house. Today, we are providing you with the best wall decoration ideas for New Year or any festive occasion to change the entire way your home looks.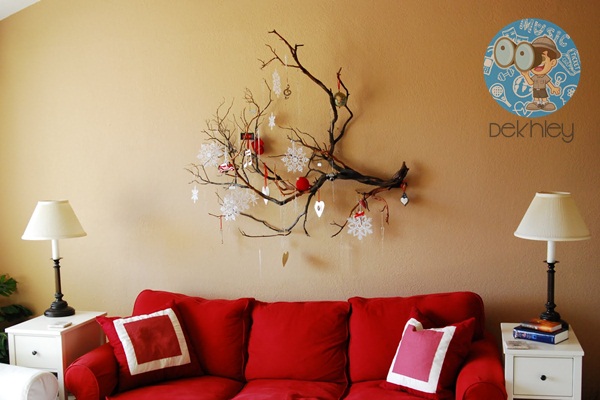 Washi Tape Pattern
These wall decor stickers are perfect for those people who want to give a new look to the walls of their home but not want to change it permanently. Washi Tape allows you to use a number of different patterns and colors to give the walls in your room a custom-made look. These easily removable tapes allow you to switch the look anytime you want.
Kitchen Art Gallery
Don't limit your wall decoration ideas to your bedroom or the dining room only. You can extend it to the kitchen area also by forming a kind of art gallery in the space using your old photographs. Just put these photos in frames and hang them on your kitchen walls at different heights to make you kitchen look like a gallery.
Coffee Filter Art
There is no limit to the amount of inspirational home wall décor ideas. One unique idea that a number of people are experimenting these days is using dip-dyed coffee filters to form a pattern on the wall. You can use glue dots behind these coffee filters to stick them on the wall and make a dramatic flower effect.
Rustic Baskets
The Christmas time is always associated with plenty of gifts. If you are looking for wall decoration ideas for Christmas, you can choose this very popular idea to decorate your staircase wall with rustic wood and wire baskets. These baskets are easy to make using common items available in the household and can be customized according to a person's thinking.
Photo Collage Wallpaper
If you want a complete wall to showcase only your best memories, why not go for photo collage wallpaper? You can use your old family photos to decorate your wall with a customized wallpaper design. These designs are perfect if you are sure about changing the look of the wall permanently and are suitable for your own bedroom walls.
Cork Board
If you are living in a slightly smaller house, then one of the best places to make your workspace could be the area underneath the staircase. You can decorate the area with a floating desk and wall hangings. You can also install a cork board on the wall to attach a card, photos and memos to it.  
Inspirational Quotes
One of the most popular decorating home ideas among the youth of this generation is by decorating their bedroom walls with inspirational quotes from their favorite idols to keep them motivated. You can also make funky patterns or use washi tape to decorate the area around the quote on your wall.
Faux Taxidermy
If you are looking for metal wall art décor, you can decorate the wall with rustic and antique pieces of faux taxidermy to give the wall a new look. The most common themes include hanging patterns like animal heads to add a modernized touch to the wall and the room. It helps to bring two contrasting styles together.
Geometric Walls
Most people are often confused about what to do to decorate iron walls. They can easily use iron wall décor available in the market or spruce up those walls with budget-friendly plywood in a number of designs and patterns. You can look up at a number of geometrical figures including squares, triangles or circles to give the wall a cool effect.
Book Pages Art
If you are mad about books and want ideas for home décor that has to do something related to your reading habit, you create book pages' art gallery on your wall. Scout your local bookstores for vintage and classic books you can use as wall décor. Fold the book pages halfway in different directions and stick them on the wall using screws to make sure they hang perfectly.